News
Parental Rights Terminates in 15 Months
CPS Fraud, allegate parents nationwide

| | |
| --- | --- |
| Feng innocent family BEFORE & AFTER @CPSvisitation | Source: PHOTO/ Karena Feng |
USPA NEWS - Child Protective Services of DHFS, aggressively invents fraud allegations against parents nationwide to obtain and maximize ASFA funding, with a goal of up to 18 years for each child.

The Adoption and Safe Families Act (ASFA, Public Law 105-89) was signed into law by former President Bill Clinton on November 19, 1997, and stated that the bill "makes clear that children's health and safety are the paramount concerns."Form First Lady, Hillary Clinton cited the Act as "the achievement which she initiated and shepherded that provided her with great satisfaction."

What Bill and Hillary Clinton failed to envision, is the possibility of the ASFA funding causing American families nationwide to have their families torn apart for reasons that DHFS; or Child Protective Services, the department that oversees children and families, would do anything to twist and taint the facts of most if not all innocent families to rip their families apart in order to fit the criteria of the ASFA funding requirement.
The CPS fraudulently with statewide immunity can crush American families at any time around the clock to take children away from their homes and make up stories based on some facts about the family's situation, and then use those facts to exaggerate a condition in becoming eligible for ASFA funding.

According to a the Onion, on 2/24/17 3:02PM, "WASHINGTON—Saying no one in the country is responsible or reliable enough to serve as a legal guardian, child protective services officials from all 50 states confirmed Friday that they had found all of the nation's adults unfit to be parents and had taken custody of approximately 80 million children."

Just in time, mayoral candidate of San Francisco, Ellen Zhou, whom currently lost to Mayor London Breed, explains in her websites and publications the corruption of the "city" of how the Department of Human and Family Services, CPS is manipulating the entire scheme; from raiding civilian homes (justifying by any random "reporter" triggering the detaining of a child or children) without requiring any credible verification; to the child(ren) thrown into as shelter world with strangers, bullies, and all livelihood restrictions.
The CPS brainwashes the children into court; for example, "your mom/dad made a mistake, and now we have to protect you from harm. Your mom/dad is mentally disturbed, and we want you to be well." But, the children forced through many stranger foster homes, adoption (where their identity is locked for 99 years to prevent parents from finding them forever). According to the Child Welfare Information Gateway, "Obtaining Birth and/or Adoption Records in most States, adoption records are sealed after an adoption is finalized. The adopted person, birth parents, and adoptive parents must follow procedures established by the State to obtain identifying confidential information from the adoption records, but they may be able to obtain non-identifying information from the agency that arranged the adoption. This section contains resources that address accessing adoption records (including original birth certificates and other vital records) in each State and obtaining adoption records for an intercountry adoption."
The truth is, with all the immunity the CPS workers are enjoying, how is it that the monitoring people of ASFA credible themselves from separating their personal interests from their fellow CPS workers? (If there are any monitoring at all.) The conflict of interest is rampant throughout the ASFA incentive distribution process; and corruption is a cooperative system within the CPS closed-doors non-justice system, where the public counsel for parent(s) works hundreds of cases with the workers, sometimes on a daily basis, whereas in order to live with each other, they work with each other. And who suffers? The parents, the children, and America's families.

Nancy Schaefer, who served in the Georgia State Senate from 2004 to 2008; was a champion of opposing the Department of Children and Families Services. "After four years of investigation, on November 16, 2007 she published a report entitled "The Corrupt Business of Child Protective Services". The report caused her to lose her position as a Georgia State Senator. Schaefer was found dead at her home in Turnerville, Georgia in Habersham County on 26 March 2010 with a single gunshot wound to her back along with her husband of 52 years,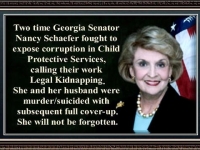 Bruce Schaefer who was found with a single gunshot wound to his chest. Police concluded the deaths to have been a murder–suicide perpetrated by her husband, but the motive for the murder was unclear and never established." Nancy Schaefer's speech: https://youtu.be/u5fqaaBpTLY CPS workers, and the DHFS system spends all day manipulating the situation and covering up the truth. CPS workers go as far as destroying evidence, instructing their network doctors what to do or say towards the parent(s) or child(s) health or mental conditions disregarding the family's true conditions. No matter what the children or the parent(s) say, the CPS continues their stubborn ways, and insist that the families have issues so to keep their paychecks and bonuses coming. Due to ASFA's spendthrift spending on incentivizing the workers and their lack of comprehension on the utterly crucial importance of family unity; that is the basic building blocks of a great community, and thus, making America great. No matter how hard United States work on Homeland Security and being the biggest spenders in the world on ballistics; not resolving this family crisis caused by ASFA funding and the people's irreparable mistake behind it; must end immediately if America wants to be great and have a lasting influence on our coming generations. Does CPS think that their dominance over families with the abuse of power with the laws will stop the parents and the children from being together? Everything will come back to haunt the CPS, DHFS, Juvenile Dependency judges, and lawyers involved in the corruption. Their need for raping innocent young children may be another motivator behind the large incentive. According WCVB 5's Kathy Curran, on May 16, 2019, DCF has hired 350 new social workers and 110 new supervisors as well as a medical director, medical social workers, and addiction experts. The goal is to drop caseloads so social workers can spend more time with children and families. And just this week, the department, together with the union, rolled out a series of initiatives to support foster homes. "That's really what this is all about, is helping kids have good lives," Sudders said. "Do you think the department is doing that?" Curran asked her. "I think the department is improving because you know what? The department should always be a work in progress because, until such time that no child is abused or neglected in the Commonwealth, we always have to strive to do better," Sudders said. Both are coming forward as adults and telling their story to 5 Investigates to expose the failures of the system that robbed them of the loving childhoods they so desperately needed. The details have, until now, been kept secret for more than a decade, sealed away in court documents and police reports and confidential child welfare records. "I don't know what it's like to be a kid. I never really had a childhood," John Williams said.
According to the Epoch Times, "In the fiscal year 2016, the federal government paid 47 states a total of $55.2 million in adoption incentive payments under the ASFA, according to congressional budget records. As of April 2018, the federal government had paid states a total of $613.9 million in ASFA incentive money.

Foster parents who adopt their foster children are also entitled to checks, courtesy of the ASFA."

"They have social workers set in place, whose main objective is to commit perjury in the courtroom, to create a rationale for why to take the children and get paid. It's almost like perjury is part of their job description," Andrea Packwood, president of California Family Advocacy, told The Epoch Times, noting social workers' proclivity to coach children about what to say in cases.

"If, for example, you have a neighbor who doesn't like you or your politics, their allegations against you don't even have to be substantiated. You could be the perfect parent, but if your garbageman doesn't like you, that gets submitted as evidence," Packwood said. "There's a movement of people like Antifa who are using this for political motivations."


The significant provisions of ASFA include:

*Requires that States move to terminate parental rights for children who have been in Foster Care for 15 out of the last 22 months
*Exceptions to the 15/22 rule include:[4]
*When the child is in a Foster Home with a biological relative (Kinship Care)
*When the Agency documents a compelling reason why parental termination is not in the Child's best interest
*When the State has failed to provide services necessary for reunification
*Requires that Permanency Hearings held every 12 months
*Clarifies cases in which States are not required to reunite Families (Aggravated Circumstances)
*Expands family preservation and support services
*Extends subsidies for adoptive children
*Provides incentives for States to improve adoption rates
*Requires States to document efforts to move children toward adoption
*Expands health care coverage for adoptive children
*Provides funding for efforts at encouraging adoption
*Clarifies that interstate boundaries should not delay adoption.

Expert opinion has begun to validate the parents' complaints that there's something wrong with ASFA's incentives.
DeLeith Gossett, a law professor at Texas Tech University, said in a 2018 Memphis Law Review article: "The act's financial incentives have disrupted families permanently by the speedy termination of parental rights, without the accompanying move from foster care to adoptive homes. The programs that the Adoption and Safe Families Act govern thwart its very purpose as children continue to languish in foster care waiting for permanent adoptive homes, often until they age out of the system into negative life outcomes."

Cassie Statuto Bevan helped draft the ASFA. She told the Chronicle of Social Change: "ASFA blamed for leaving many children as orphans, and that certainly wasn't the intention of ASFA. There has been concern we moved to permanency but didn't pay attention to the parents' needs."

The ideology of the Clinton bureaucrats who worked on the law might explain its focus. "What happens to children depends not only on what happens in the homes but what happens in the outside world," Mary Jo Bane, who served as the Clinton administration Department of Health and Human Services' assistant secretary of children and families, said in a 1977 interview.


"We don't know how to raise children. If we want to talk about equality of opportunity for children, then the fact that children raised in families mean there's no equality. It's a dilemma. To raise children with equality, we must take them away from families and communally raise them."

The fact is, CPS reunification plans for parents include the Triple Parenting class 2019, and Parent Orientation class where the class teaches parents how to "submit to CPS or else your kids will not be returned." And, even if the parent(s) do submit, CPS comes up with a world of justifications to not return the children. The bottom line is, why would they? ASFA won't fund them if there's no child taken.

There are a handful of children that did get returned to their biological parent(s) and families reunited; only to find out that the children are taken away again in a short time later. The fabrication of CPS worker's works makes it a compelling story as if they are "saving the children from their parents." But, it's actually the parent(s) that are protecting their children from all harms of the world. Compared to anyone else, no one can replace biological parents.


Mary Jo Bane, the assistant secretary of the DHFS to Bill Clinton doesn't know how to raise children, and the tendency for the CPS to use workers that are single with no children to supervise parent(s) on how to raise their children is of grave concern to America. CPS workers continue to diagnose parents with mental issues if they cannot justify the removal of children based on drugs, alcohol, or abuse. The CPS workers however are not required to go through objective mental testing themselves, before supervising any families; and CPS forces parent(s) to take a psychological 730 Evaluation where the test is only allowed to be taken by CPS network doctors who are part of their team. The 730 Evaluation would determine if the parent(s) is capable of being a parent to their child. Unfortunately, the 730 Evaluation is heavily tainted by questions that no one can pass as a good parent. For example, one question the parent would be asked is, "do you have depression?" and if the parent answers no, the second question is, "when you have depression, do you tend to eat more or less?" if you answered yes, then you're admitting to being depressed by eating more. And,
if you answered no, then you're admitting to being depressed by eating less. Either way, the fact that you said you were not depressed means you are not clear about what you feel. Then the answers will heavily impact your results, and ultimately, CPS will use this so-called scientific test by a Ph.D. psychologist/psychiatrist illegally justifying that the parent is mentally disturbed.

In October 2016, lawyers for officials in California's Orange County argued in a civil case that social workers whose lies resulted in the removal of children from their parents had the right to commit perjury in the case and were entitled to immunity. The U.S. District Court of Appeals for the Ninth Circuit rejected the argument.

Parents in custody battle due to separation or divorce are also ripe targets for CPS to take custody of children. CPS has every father's behavior as inappropriate for being a parent, and everything the mother does, labeled as incapable of self-sufficiency to rear children.

The Act is open to the public, and anyone can look into details of the Act by going:
https://www.acf.hhs.gov/sites/default/files/cb/pi9802.pdf or "H.R. 867 — 105th Congress: Adoption and Safe Families Act of 1997." www.GovTrack.us. 1997. November 9, 2019 https://www.govtrack.us/congress/bills/105/hr867 or
Visit Dawn E. Worswick's childhood's traumatic story from CPS victimization; (a child speaks out): https://fightcorruptedfamilycourtsandcps.wordpress.com/
Link to CONTRIBUTE: ASFA Act of 1997, CPS are granted $4-6K for each child removed from home, forced #crowdfunding @fundrazr Support and Retweet https://fundrazr.com/01aPAd?ref=tw_58c1U9
Keywords: Adoption, Amy Yim, Andrew Yee, Asfa, Bill Clinton, Clinton, Cps, Crime, Death, Dhfs, Foster Home, Fraud, Hillary Clinton, Nancy Shaefer, Rape, Termination Of Parental Rights, Tpr
Liability for this article lies with the author, who also holds the copyright. Editorial content from USPA may be quoted on other websites as long as the quote comprises no more than 5% of the entire text, is marked as such and the source is named (via hyperlink).
| | |
| --- | --- |
| | Daren Frankish |
| | RAHMA-SOPHIA RACHDI |
| | Ruby BIRD |
| | Yasmina BEDDOU |
| | Aurangzeb Akbar |